At The Hirshhorn's Marcel Duchamp Exhibit, Viewing The Pieces Makes You Part Of The Art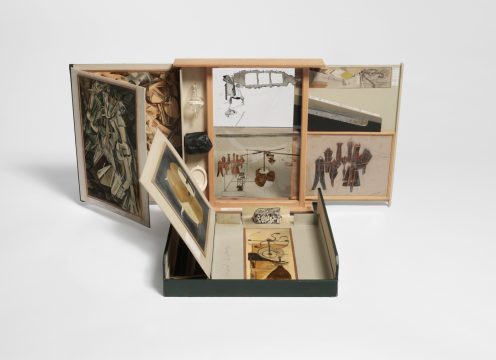 In a comprehensive new exhibition, the Hirshhorn Museum and Sculpture Garden traces the career of 20th century artist and provocateur Marcel Duchamp. Marcel Duchamp: The Barbara and Aaron Levine Collection features the recent gift of more than 50 works of art that have been promised to the museum by Washingtonians Barbara and Aaron Levine.
The Hirshhorn exhibition, which opened Saturday, is a reverent display of work that was created with the utmost irreverence for institutions of fine art. For decades, Duchamp held onto his resentment towards such institutions after having his work rejected in two significant ways. The first rejection came in Paris in 1912.
As the story goes, Duchamp submitted his painting "Nude Descending a Staircase, No. 2" to the Salon des Indépendants. The painting was poorly received by other members of the salon, who represented Cubism, and felt the painting slanted too far towards Futurism—a rival artistic movement. They asked Duchamp's brothers, also salon members, to have Duchamp replace his painting with a substitution. The 25-year-old Duchamp refused, took his painting home, and renounced his membership.
Read the full article at DCist.
National Museum Of Women In The Arts' Exhibit Lets Local Artists Of Color Tell Their Own Stories
DMV Color, a new exhibition featuring contemporary works of book art, highlights women of color connected to the local region, while also showcasing the D.C. area as fertile ground for the book arts.
With approximately 20 artists' books, graphic novels, photobooks, and zines on display in National Museum of Women in the Arts' fourth floor library, DMV Color includes both widely-known artists—such as Elizabeth Catlett and Loïs Mailou Jones—and lesser-known creators.
"The impetus was just feeling like we wanted to shine a spotlight on book arts in the DMV and shine a spotlight on the creative endeavors of women of color," says Lynora Williams, director of the Betty Boyd Library & Research Center. "It's somewhat understated the extent to which, for women of color, this is a very fertile area that sparks a lot of creative work, and it's also an area that's important for book arts."
Read the full article at DCist.